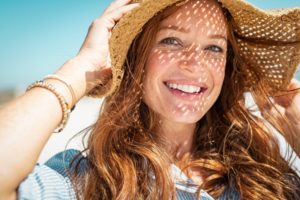 You've probably spent the last couple of months soaking up some rays from the hot summer sun. Whether you're playing beach volleyball, swimming at the local pool, or simply working on your tan, the sun can do all sorts of wonderful things. But did you know it could also improve your oral health? Read on as a dentist in Port Charlotte reveals how spending some time outdoors can give you a healthy, radiant smile!
How Sunlight Can Boost Your Oral Health
Not only does sunshine feel great, but it can also lead to healthy gums and teeth. How so? Sunlight provides vitamin D, an essential vitamin that can work wonders for your oral and overall health. Vitamin D benefits your smile in two major ways:
Preventing Gum Disease
When vitamin D levels are low, the immune system is impaired, making it harder to combat infections like gum disease. Additionally, the cells are likely to produce more cytokines – proteins that contribute to inflammation. Fortunately, regular sun exposure can greatly reduce your risk of gum disease.
Improving Calcium Absorption
Calcium promotes strong teeth and bones, including the jawbone that supports the teeth. Without vitamin D, though, the body can't completely absorb calcium, so your body won't receive all of calcium's benefits. As a result, your teeth and jawbone may weaken, and you might be more likely to develop tooth decay.
Keeping Yourself Safe Under the Summer Sun
As beneficial as daily sunlight exposure is, it's no secret that spending the entire day outside can harm your skin. In addition to painful sunburn, too much time under the sun may elevate the risk of skin cancer. These easy tips can help:
Wear sunscreen and reapply regularly. Don't forget to wear an SPF lip balm to protect your lips!
Try to limit your time in direct sunlight if possible.
If you're going to be outside for a long time, wear a wide-brimmed hat to shield your face.
Drink plenty of water so you don't dehydrate.
Soaking up the sun's rays can do a whole lot more for your smile than you may have realized. Be sure to stay safe this summer as you enjoy a bright, healthy grin!
About the Author
As a trusted dentist in Port Charlotte, FL, Dr. Bryan Villescas works to forge warm, lasting relationships with each of his patients at Caring Way Dentistry of Port Charlotte. Since graduating from the University of Colorado School of Dental Medicine, he has completed hundreds of hours of continuing education courses in a wide range of dental services. Of course, he prefers helping his patients avoid needing these treatments by preventing oral health issues in the first place! He'd love to give you tips for maintaining a healthy smile, such as spending time under the sun. You can contact Dr. Villescas at 941-627-9900.