Dental Implants – Port Charlotte, FL
Reliably Replacing
the Entire Smile
Missing teeth affect millions and greatly lower individual's levels of self-confidence. If you are affected with missing teeth in the Port Charlotte area, then we encourage you to see which reliable treatments our team at Caring Way Dentistry of Port Charlotte can easily provide for your specific situation. A common treatment instills the help of dental implants. What are dental implants and why are they greatly recommended by dentists everywhere? Keep reading on to learn more about dental implants in Port Charlotte, FL, a long-lasting tooth replacement option.
Why Choose Caring Way Dentistry of Port Charlotte for Dental Implants?
Beautiful, Long-Lasting Restorations
Dentist with Over 20 Years of Experience
Empowered, Empathetic Dental Team
What Are Dental Implants?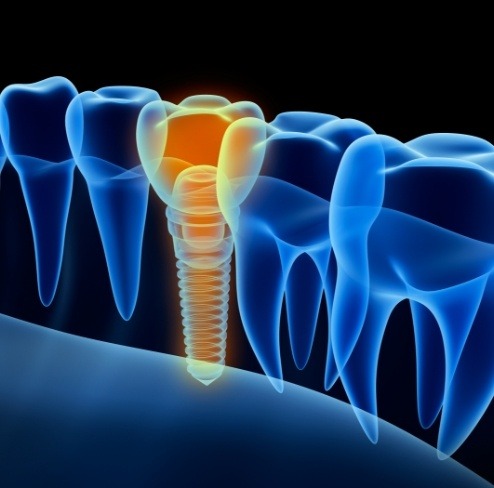 After an individual is affected with a missing tooth, many damaging factors can occur to the rest of their smile. A missing tooth can deteriorate the mouth's structure and cause the surrounding teeth to begin to shift. A practical solution is dental implants that replace the tooth and its root. Dental implants near me are made from titanium rods that are surgically placed in the gums for a lasting structure that soon connects with the jawbone. After the dental implant is placed in the mouth and properly healed, your dentist will discuss restorative options that can be placed on top of the implant. These can include options such as dental crowns, dentures, and partials. Each of these therapeutic options can be made from various materials that closely resemble the look and feel of natural teeth.
The 4 Step Dental Implant Process
Consultation: The initial consultation is meant to help you determine whether dental implants are the right choice for correcting your tooth loss. It is also the stage where preliminary treatments such as bone grafts are planned.
Dental Implant Surgery: Placing dental implants requires a minor surgical procedure where the gums are opened so that small holes can be made in the bone. The implant posts are carefully placed in these holes.
Osseointegration/Abutment: The implant will join with the bone via osseointegration after about 3 to 6 months. Then an abutment can be attached to the post.
Final Restoration: An appropriate restoration will be designed based on the current shape of your mouth, and it will be permanently attached to the implant posts during the final step of the process.
Benefits of Dental Implants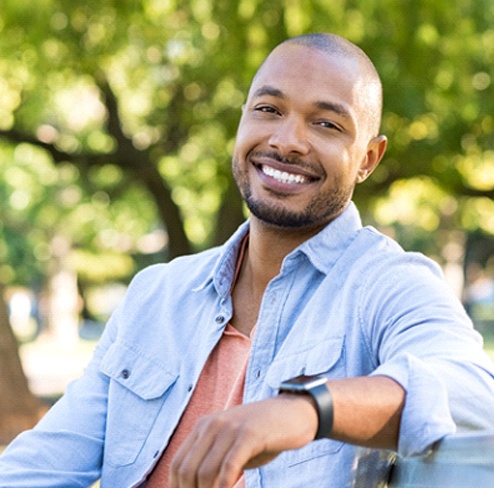 Every year, over 500,000 people choose dental implants. Thanks to their unique surgical placement in the jawbone, dental implants give you a smile that looks, feels, and functions just like your natural one. Unlike traditional bridges or dentures, implants provide a completely comprehensive tooth replacement, allowing for maximum comfort and durability. Read on to learn some of the most important benefits of dental implants in Port Charlotte.
Day-to-Day Benefits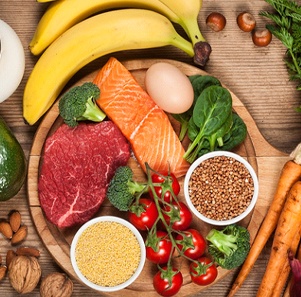 Diet: Are you tired of avoiding your favorite foods due to missing teeth or slipping dentures? Dental implants allow you to eat virtually anything, giving you the chance to enjoy a more nutritious and delicious diet.
Maintenance: Traditional dentures require cleaning daily by removing your smile overnight. However, implants can be cared for just like your natural teeth. Simply brush twice a day, floss once a day, and visit our implant dentist in Port Charlotte regularly to care for your smile.
Appearance: Dental implants allow your restorations to mimic the way that your natural teeth emerge from the gums, giving you the most beautiful and natural-looking appearance.
Health Benefits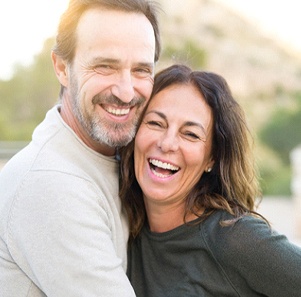 Bone health: Even losing one tooth can cause the jawbone to start shrinking because it is no longer being stimulated with the same number of teeth. Thankfully, dental implants act as natural tooth roots to stimulate the jawbone and prevent it from deteriorating. This also allows you to enjoy a fuller, more youthful facial appearance.
Dental health: Your teeth rely on each other to stay in place – one missing tooth can cause misalignment throughout your smile. Implants fill in gaps to maintain your smile's straight appearance. Plus, they lower your risk of developing common problems like decay and infection.
Mental health: Have you been hiding your smile due to missing teeth or old dentures? Dental implants allow you to smile, speak, and eat with total confidence in any social or professional setting. This alone will improve your self-esteem and overall outlook.
Long-Term Benefits
Predictability: Dental implants are unique because they require surgery, which can make patients anxious. However, you can enjoy total peace of mind knowing that they have a success rate of 95% even after 10 years. This is dependability that you can't get anywhere else.
Durability: Dental implants are made of biocompatible materials that fuse to the jawbone, becoming a permanent part of the body. This allows them to last for decades up to the rest of your life with proper care. Just be sure to practice good at-home dental care and visit our office routinely.
Cost: While dental implants tend to cost more than other tooth replacement options, they're actually the most affordable option in the long run. Because they last for decades, dental implants help you avoid extra replacements along with the cost associated. Plus, they keep you healthier, lowering the price you'd pay for additional dental treatments in the future.
Who Dental Implants Can Help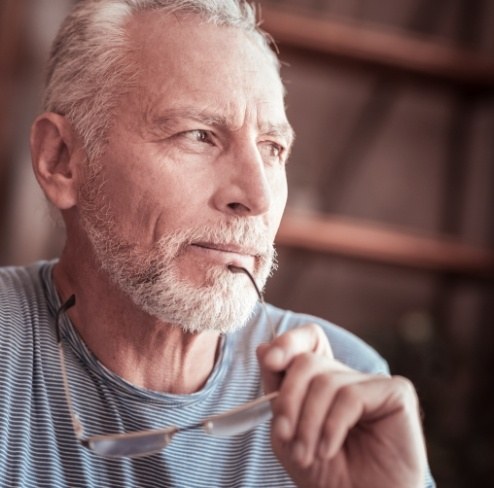 To qualify for dental implants, you need to meet the following criteria:
You are missing at least one tooth.
You have enough jawbone density to support the implant.
You do not have gum disease or any other oral infections.
You are healthy enough for the surgery.
We can discuss certain treatments such as bone grafts or periodontal therapy that can help you meet these requirements. Then we can figure out what type of implant treatment best matches your situation.
Missing One Tooth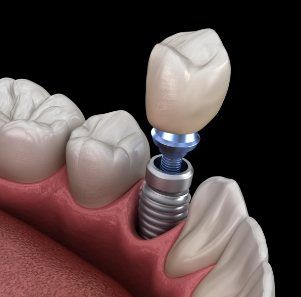 When a single tooth is missing, an implant can be placed into the gums, and a crown can be attached to it to fill in the gap in your grin. An implant crown can be placed without making any changes to the surrounding teeth, making it a better option for those that want to preserve their natural dental structure.
Missing Multiple Teeth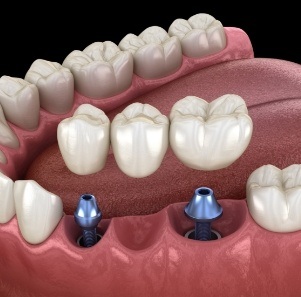 When multiple teeth are missing, it's often possible to replace them all at once with just a few implants. For example, with two dental implants and a bridge, we can fill in a gap left by three or more consecutive teeth. Implant bridges are strong and reliable without requiring alterations to natural teeth.
Missing All of Your Teeth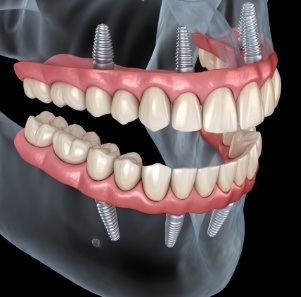 An entire arch of missing teeth can be attached to your dental implants. Implant dentures closely resemble traditional dentures, but they are designed to click securely onto the implant posts so that they don't slip. Many implant dentures always stay in the mouth, but others are designed to be removable.
Understanding the Cost of Dental Implants
Before you commit to getting dental implants, you should have a firm idea of how much you'll end up paying for them. Factors to consider include preparatory procedures, the number of implants being used, the type of restoration required, and the materials used to make various parts. You should also keep in mind that dental implants have the potential to save you money because they generally do not have to be replaced as often as more traditional tooth replacements.
To learn more about the cost of dental implants in Port Charlotte, review the information below and call our office for additional assistance.
Preliminary Treatments & Dental Implant Surgery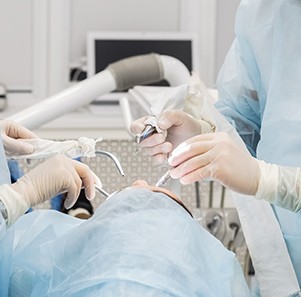 Although not always necessary, you may be required to undergo preliminary treatments before receiving your dental implants. These can include periodontal therapy, tooth extraction, bone grafting, a sinus lift, or another stabilizing and strengthening form of dental care. If you need one or more of these services, you can expect the price to be incorporated into the total estimate.
Whether you need preliminary treatment or not, another aspect of your treatment cost is the actual surgical procedure. Fortunately, our team provides start-to-finish dental implant placement in-house, so you won't need to seek an outside specialist and pay a separate fee.
The Parts of Your Dental Implant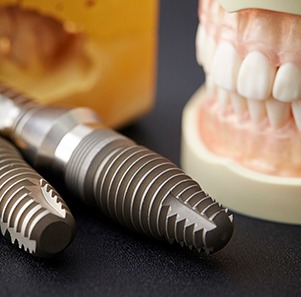 You may not realize it, but the parts of your dental implant are also factored into your cost estimate.
How many dental implants do you require – Do you need one or six? Replacing a single tooth will cost much less than receiving a full denture to replace an entire arch of teeth.
The materials used – The most common materials used to construct dental implants are titanium and zirconia. Depending on your needs, our dental team will decide which one is right for you.
The type of restoration you need – Crowns, bridges, and dentures are all possible restorations when receiving dental implants. The kind you will receive is ultimately dependent on how many teeth you need to have replaced. Each restoration is custom-made to match a patient's existing smile.
The brand – There are brands that are less expensive; however, they often don't hold up as well over time. When it comes to quality dental implants, cheaper is not always better. We'll explain during your initial consultation which brand we use and why.
How Dental Implants Can Save You Money
Dental implants in Port Charlotte are far superior to other tooth replacement solutions. When comparing their benefits and cost-savings with other treatment options (i.e., dental bridges, dentures), you'll find that you can save in tremendous ways:
You won't require specialized supplies or products to keep your new teeth clean. Although you'll need to purchase non-abrasive toothpaste, you do not need to worry about denture adhesives or soaking cleaners because your teeth are permanently in place.
Unlike traditional dentures and dental bridges that must be replaced every few years, dental implants can last 30 years or more with regular care and maintenance.
You'll avoid many common systemic issues that are often linked to tooth loss. Diabetes, osteoporosis, and even heart disease require much time and money to treat. By replacing your teeth with dental implants, you can reduce your risk and keep more money in your pocket.
Does My Dental Insurance Cover Dental Implants?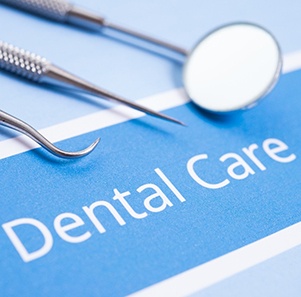 It depends. Some dental insurance companies are beginning to provide coverage for dental implants; however, most still view this restorative treatment as "elective." You should understand, however, that although they may not pay for the surgical procedure, they may agree to pay for your initial consultation, customized restoration, or even your preliminary treatments.
Our team can help you discover where you stand when it comes to dental implant coverage and your insurance company. No matter the result, we're here to ensure you get the affordable care you deserve.
Making Dental Implants Affordable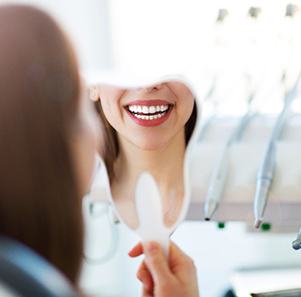 Even when dental insurance won't cover the cost of your dental implants, you can remain confident that your implant dentist in Port Charlotte is here to provide alternative solutions to help keep your treatment affordable. At Caring Way Dentistry of Port Charlotte, we are pleased to partner with third-party financier CareCredit. By enrolling in a flexible financing plan, you can break up the total cost of your care into manageable monthly payments.
Not only does this system make it possible to move forward with achieving a fully restored smile, but you can stay within your budget as well.
Dental Implant FAQs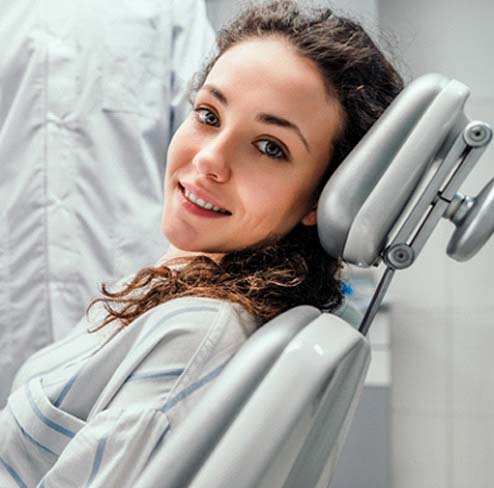 If you suffer from extensive tooth loss, you may be thinking about rebuilding your smile with dental implants in Port Charlotte. By reading the information given above, you can determine whether or not this method of tooth replacement is right for you. However, it's completely normal to have a few concerns about the process before officially committing to it. To help you out, our team at Caring Way Dentistry of Port Charlotte has decided to answer some frequently asked questions from patients.
How Long Do Dental Implants Last?
Dental implants are one of the most permanent solutions for missing teeth, lasting well over 30 years. Of course, their exact lifespan depends heavily on your oral health and lifestyle. You can help your new smile last as long as possible by brushing twice a day, flossing daily, and rinsing daily with an ADA-approved mouthwash. Make sure you visit our dental team every six months for a checkup and cleaning as well!
Does Getting Dental Implants Hurt?
Before the procedure begins, we'll numb your mouth with a local anesthetic to ensure you're completely comfortable. You'll also most likely be sedated during your surgery, which means your body's ability to register pain will be much lower. For the first few days following dental implant placement, your mouth may feel sore and irritated. Luckily, you can easily manage your discomfort by taking over-the-counter pain medication and using cold compresses.
What Can Cause Dental Implants to Fail?
Although dental implant failure is uncommon, it typically happens for one of two reasons: peri-implantitis and failed osseointegration. Peri-implantitis is a type of gum disease that develops from poor oral hygiene, damaging the bone and soft tissue supporting the implant. Meanwhile, failed osseointegration is when the implant doesn't successfully integrate with the jawbone. Some other causes of dental implant failure include chronic teeth grinding, tobacco use, and poor oral hygiene. During your consultation, we'll explain how to keep your smile healthy and what you can do to minimize your risk of this complication.
How Long Does It Take to Recover from Dental Implant Surgery?
It depends! Most patients are able to return to their usual activities the day after surgery. However, it's incredibly important that you avoid strenuous exercise for the first week or two as it can negatively affect the healing process. Although you can expect some bleeding and swelling after your procedure, it should stop within three to four days. While you recover, make sure you take your prescribed or over-the-counter pain medication as directed. It's worth noting that it could take up to six months for the implants to fuse with your jawbone via osseointegration.