Dental Crowns – Port Charlotte, FL
When a Tooth
Needs to Be Fixed
You are eating dinner, and suddenly you are holding half of one of your teeth in your hand. Weakened by a fracture or a large filling, the tooth is now in obvious need of repair. Dr. Villescas may suggest a crown, an artificial replacement of the upper part of the tooth, to restore the damaged one's function and look. Crowns can be made from several different kinds of materials, and based on location, aesthetics, and cost, the right one to repair your damaged tooth can be selected. At our dental office, our emergency dentist will be able to create and place just the right kind of dental crowns in our Port Charlotte, FL dental office to restore your tooth.
Why Choose Caring Way Dentistry of Port Charlotte for Dental Crowns?
Durable Tooth-Colored Materials
Approachable Dental Office and Team
Dentist with Over 20 Years of Experience
How Do Dental Crowns Help?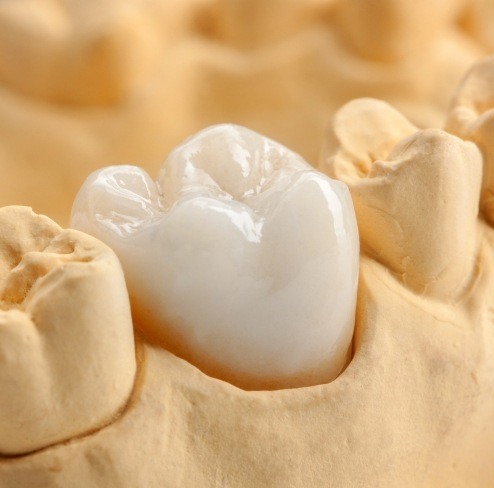 Dr. Villescas may recommend a dental crown for several reasons. Often, it's used to cover a tooth that is at risk of breaking or fracturing. It can also be used to hold together the pieces of a tooth that has already broken. A crown can be placed to support a tooth that has received a large filling or to support a dental bridge. It can even be used cosmetically to cover a misshapen or severely discolored tooth.
A dental crown is preferred to remove the tooth altogether because it is better to use the natural tooth rather than a dental prosthetic as a replacement. Placing a crown on a tooth at risk of fracturing prevents the need for extraction and prevents any pain or infection that the fracture or break could cause.
How Are Dental Crowns Placed?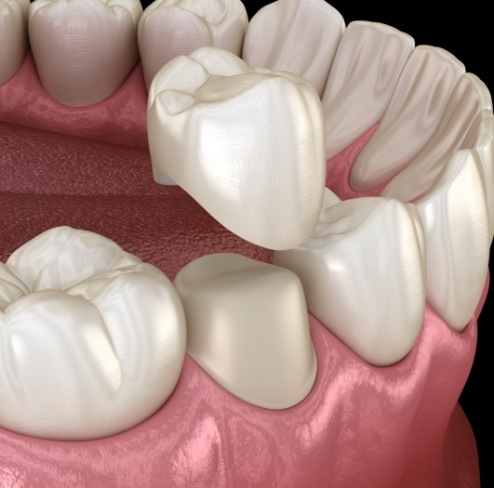 To have a dental crown procedure near you in Port Charlotte, you will need to visit the dental office of Dr. Villescas at least two separate times. Dr. Villescas will prepare the affected tooth at your first visit to allow the crown to fit comfortably. Any decay or damage will be removed, the tooth will be shaped and cleaned, and an impression will be taken.
A temporary crown will be placed before you leave our dental office to keep the tooth protected until you have the permanent crown put in place. Once a dental laboratory has completed it, you will return for a second appointment to have the permanent crown bonded to the prepared tooth. Call us to meet our dentist and get the dental crown procedure near you.