Veneers – Port Charlotte, FL
The Secret Behind a Dazzling Smile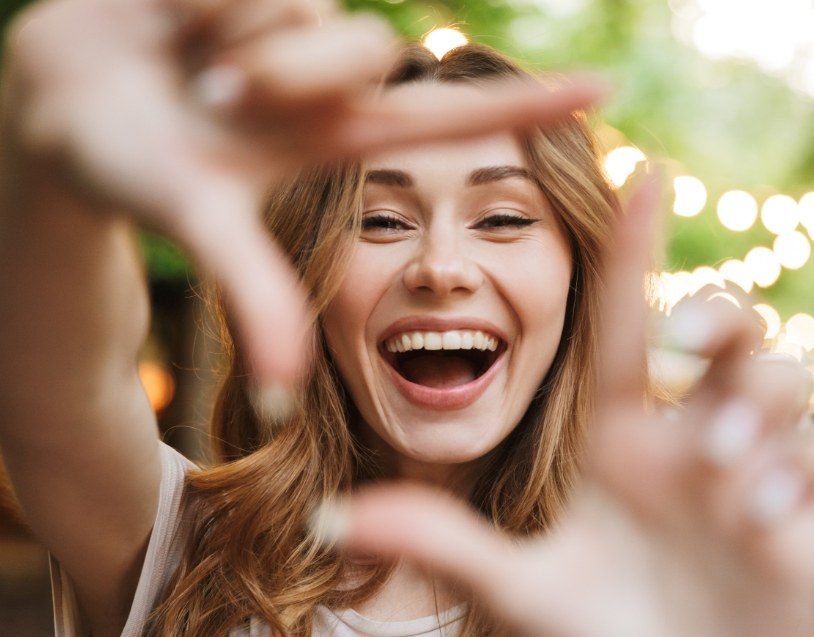 Do you often hide or cover your teeth when taking a group photo? Are you unhappy with the way your pearly whites look in the mirror? At Caring Way Dentistry of Port Charlotte, we know how important your smile is to your self-confidence, self-esteem, and even your personal and professional success. That's why we're happy to provide veneers in Port Charlotte! With these custom-made porcelain layers, we can cover up one or multiple dental imperfections in just a couple of appointments. Keep reading or reach out to our office today to schedule an initial consultation so that we can determine the best way to beautify your smile .
Why Choose Caring Way Dentistry of Port Charlotte for Veneers?
Beautiful, Lifelike Restorations
Experienced, Caring Dentist
Enthusiastic, Empathetic Team
What Are Dental Veneers?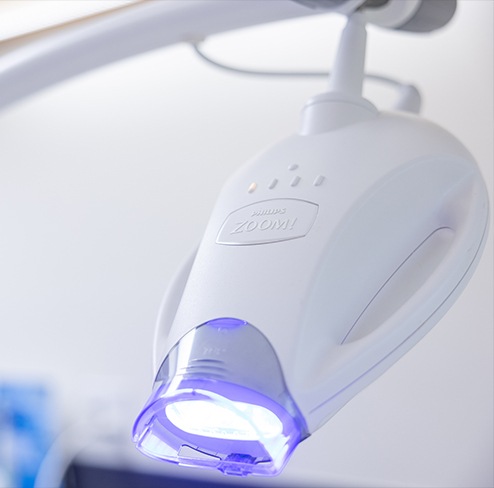 Dental veneers are super-thin, tooth-colored shells constructed out of durable materials like porcelain or composite resin. These layers are bonded to the front side of your upper and/or lower teeth to both conceal any flaws and improve the appearance of your smile. Here are several imperfections that can be treated with veneers:
Heavily stained or discolored teeth
Chipped or cracked teeth
Teeth that have been worn down due to grinding and/or clenching (bruxism)
Irregularly shaped teeth
Mild to moderately gapped teeth
Teeth that are too short or stubby
The Process of Getting Veneers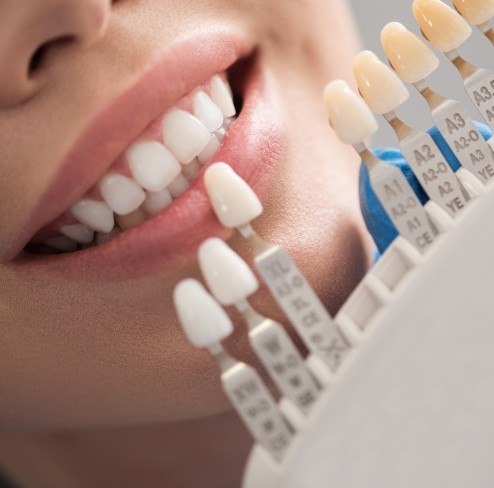 Before you can get veneers, you'll have to undergo an initial consultation with our cosmetic dentist in Port Charlotte, Dr. Bryan Villescas . He will thoroughly assess your teeth and gums to ensure they are healthy enough to begin the treatment, and we'll discuss your smile goals. If there are any underlying or developing issues, we'll have to address them before moving on to your veneer process. Once your oral health is in good condition and we've created your personalized treatment plan, we can start your procedure.
In the first appointment, we'll prepare your affected teeth by removing a tiny amount of enamel so that the veneers will blend seamlessly with your smile. We'll take impressions of the area to create a mold of your teeth, which will be sent to a dental lab for fabrication. This portion of the treatment can take a couple of weeks, so you'll need to wear a temporary set of veneers in the meantime. Once the final ones are ready, you'll come back to our office to replace the provisional ones. Our team will make any necessary changes and confirm that you're satisfied with the results before sending you on your way with your brand-new smile!
The Benefits of Veneers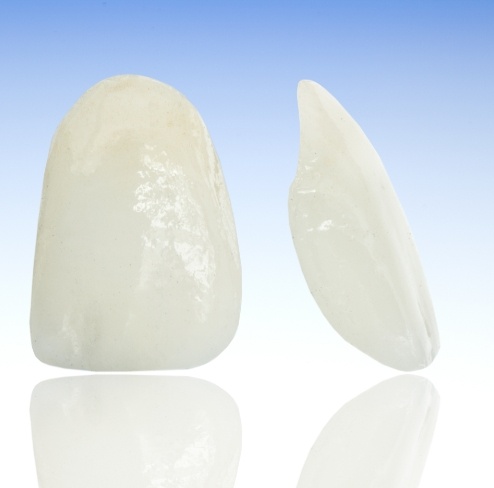 While there are various cosmetic services with unique methods of enhancing pearly whites, veneers offer the most comprehensive solution out there. Here are a few benefits you can expect to enjoy with this option:
Entirely custom-crafted results for each patient.
Durable and natural-looking dental materials to match your smile.
Conceal one or multiple dental imperfections simultaneously.
Cavity-resilient and highly stain-resistant porcelain layers.
A quick and simple process that can be completed in two visits.
Results can last 15 years or more with proper care.
Veneer FAQs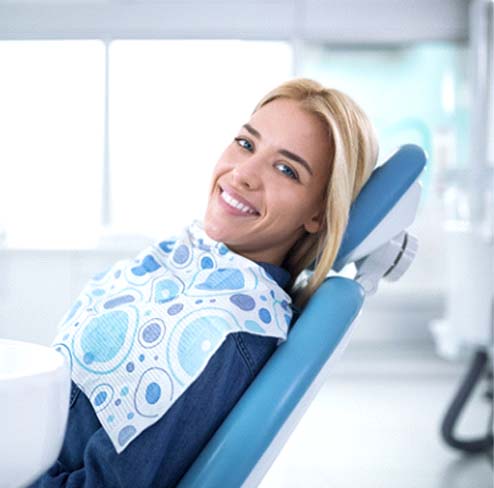 Are you considering beautifying one or most of your teeth? Do you want to learn more about veneers in Port Charlotte? Even though you can be sure to appreciate the numerous advantages of this cosmetic solution, it's important to know as much as you can before committing to the treatment completely. Let us help! If you have a specific question on your mind, then don't hesitate to give us a call to schedule a consultation. Otherwise, you can keep reading to learn the answers to some frequently asked questions about veneers.
Will I Still Be Able to Drink Coffee with Veneers?
Are you a coffee enthusiast? You're in luck – veneers won't stop you from enjoying a warm cup of coffee when you wake up or a nitro cold brew in the afternoon. Since materials like porcelain are stain-resistant, you'll be able to sip on your beverage without too much worry. Of course, it's still a good idea to use a straw to protect your teeth, especially those that don't have veneers. For added measure, sip on water simultaneously.
Is There Anything I Can't Eat with Veneers?
With temporary veneers, it's of the utmost importance that you stick to mostly soft foods, like smoothies, yogurt, applesauce, and oatmeal. Your permanent veneers are significantly more durable, which will allow you to enjoy a wide range of foods once more. Even then, it's a good idea to avoid extremely hard, crunchy, and sticky foods, like caramel apples. On an adjacent note, be sure to indulge in alcohol sparingly since it can weaken the bonding material.
How Long Do Veneers Last?
One of the benefits of veneers is their long lifespan. But how long do they last exactly? According to one study, 93% lasted over a decade. A similar study a few years later found that 83% lasted for 20 years! Of course, their longevity depends entirely on how well you care for them. That's why it's so important that you brush your teeth each morning and evening, floss consistently, get a dental checkup and cleaning every six months, and avoid unhealthy dental habits (i.e., smoking, nail-biting, consuming alcohol in excess).
Is There Anyone Who Shouldn't Get Veneers?
In short, the answer is "yes." While veneers are suitable for a wide range of patients, there are a few factors that make them out of reach for others, at least temporarily. For example, if you have a cavity, gum disease, or another serious oral health concern, then veneers aren't a good fit. The good news is that our talented Port Charlotte cosmetic dentist may be able to work the appropriate restorative care into your treatment plan to help you become a candidate.
Are Veneers Permanent?
Since your veneers will eventually need to be replaced, they are not technically permanent. They are, however, considered to be irreversible since the preparation process requires a portion of your enamel to be removed. The good news is that veneers last significantly longer than other cosmetic dental treatments, like teeth whitening and dental bonding. So, you won't have to complete the entire process over and over again if you care for your veneers properly.