Sedation Dentistry – Port Charlotte, FL
Helping You Stay Calm
at Our Dental Office
At Caring Way Dentistry of Port Charlotte, we know how important oral health is to your overall health. We are passionate about providing dental care to everyone and not allowing fear to be a barrier to a healthy smile. By incorporating conscious sedation dentistry into our Port Charlotte, FL dental office, our dentist can help all our patients achieve the healthy smiles they deserve.
Sedation dentistry is for people who fear or anxiety at the dental office as well as those that have a hard time sitting still for long periods, have a hard time getting numb and staying numb, or have a sensitive gag reflex made it impossible to have dental treatment in the past.
Sedation can be used for treatments as simple as a filling or more complex dental treatment like a root canal, extraction, or oral surgery. The introduction of sedation dentistry has allowed patients who have avoided the dentist for years to receive the dental care they need.
Why Choose Caring Way Dentistry of Port Charlotte for Sedation Dentistry?
Relaxing, Welcoming Environment
Gentle, Empathetic Team
One Stop for Comprehensive Care
Oral Conscious Dental Sedation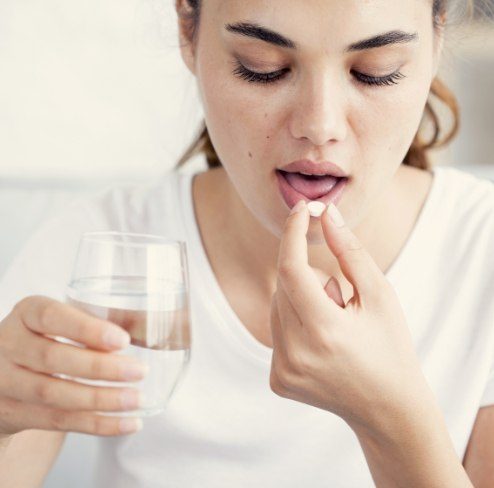 Dr. Villescas offers conscious sedation in the form of a prescription pill to patients who suffer from dental anxiety. This will put you in a relaxed state and may even make you fall asleep. It has an amnesic effect, so you'll have little to no recollection of your appointment.
Conscious sedation pills must be taken on a fasting schedule.
You take the first pill before bed and take the second pill one hour before your dental appointment. Since you will be sedated before your visit and for several hours after, you'll need to have a friend or family member drive you to and from your dental appointment.
Many of our Port Charlotte dental patients also fear needles, which is why we offer computerized anesthetic delivery with the Wand®? single-tooth anesthesia. After Dr. Villescas applies a topical numbing agent to the tooth, he administers a tiny injection to numb that tooth and that tooth only. Most patients who've received anesthetic with the Wand tell us they never feel a thing!
To learn more about sedation dentistry with Dr. Bryan Villescas, schedule an appointment with our emergency sedation dentist near you.