Dentures – Port Charlotte, FL
Rebuild Your Incomplete Smile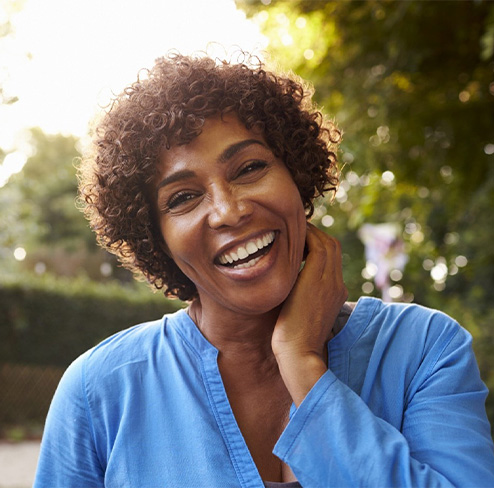 When you're missing several or all of your natural teeth, many of life's little pleasures become impossible to enjoy. Having a nice meal with old friends, for example, may feel extremely embarrassing. At Caring Way Dentistry of Port Charlotte, we want to rebuild your incomplete smile by fitting you with a custom-made denture. We use only the highest-quality materials, ensuring your prosthetic teeth will look remarkably natural. Contact our practice to learn more about dentures in Port Charlotte, FL!
Why Choose Caring Way Dentistry of Port Charlotte for Dentures?
Fast, Expert Denture Repair
Implant Dentures Placed In-House
State-of-the-Art Dental Technology
Who's a Good Candidate for Dentures?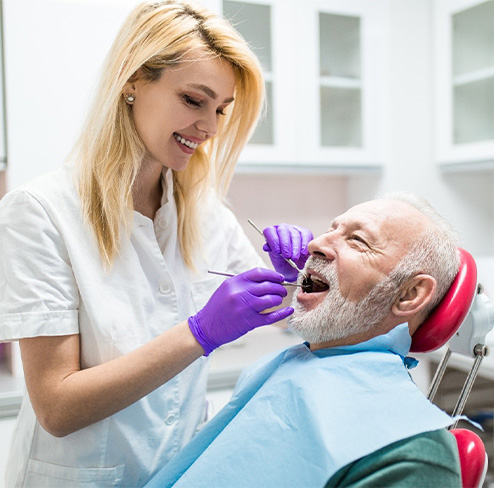 Really, almost anyone with missing teeth can qualify for dentures. They don't require much beyond major tooth loss. That said, it's still a good idea to consult Dr. Villescas about treatment. He and the rest of Caring Way Dentistry can confirm whether you're a good dentures candidate. Even if you're not, you could become one later through preliminary dental work. To learn more, just keep reading or call our office for the details.
Effects of Missing Teeth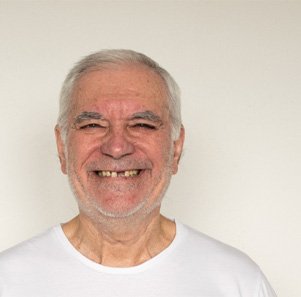 Before anything else, keep the causes and effects of tooth loss in mind. Doing so helps you see how dentures can benefit your smile.
As a matter of fact, people often lose teeth for various reasons. One person's tooth could decay to the point that it falls out or needs extraction. Meanwhile, someone else may have gum disease that wears down the tissues securing their teeth. A few others could get their teeth knocked out from a sports injury or accident.
While its causes are various, tooth loss' effects are fairly severe. Being without teeth makes everyday tasks difficult, including eating, speaking, and smiling. This condition also results in smile gaps, which cause jawbone erosion. (An eroded jawbone results in facial collapse if left alone.) Spaces between teeth can even trigger further tooth loss.
What Qualifies You for Dentures?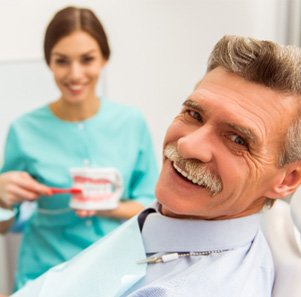 Again, patients without teeth normally qualify for dentures. Even so, there are several other factors a patient could consider.
For example, just look at your current oral health. Patients need healthy gum and jaw tissues for dentures to work. Therefore, a good treatment candidate needs a strong commitment to dental care. At the same time, dentures can treat issues besides tooth loss. The restorations are able to replace sensitive or decaying teeth.
The number of teeth lost is also worth noting. Based on the total number, you will need one of two possible dentures. The first type is the partial denture, which only replaces a few teeth. In contrast, the second is the full denture – an appliance that replaces all the pearly whites along an arch.
Lastly, you should take your budget into account as well. After all, it's not as if dentures are free; they cost money as everything else does. Fortunately, dentures are cheaper than most other restorations. They're thus ideal for patients with limited funds.
Alternative Tooth-Replacement Options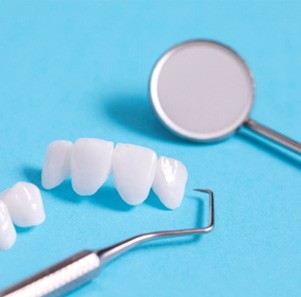 If you're not a good dentures candidate, don't worry; Caring Way Dentistry has other restorative options. In particular, there are two other procedures you could try. They are the following:
Dental Bridges – Dental bridges are fixed restorations made of crowns fused to a pontic. Because they only replace a few pearly whites, they rely on your surrounding natural teeth for support.
Dental Implants – Dental implants are metal posts placed in the jawbone. Since they're made of titanium, they gradually fuse with the jaw. (This fusion, though, depends on a patient having healthy bone tissue.) In many cases, implants tend to be expensive.
Learn More About Dental Bridges
Learn More About Dental Implants
Types of Dentures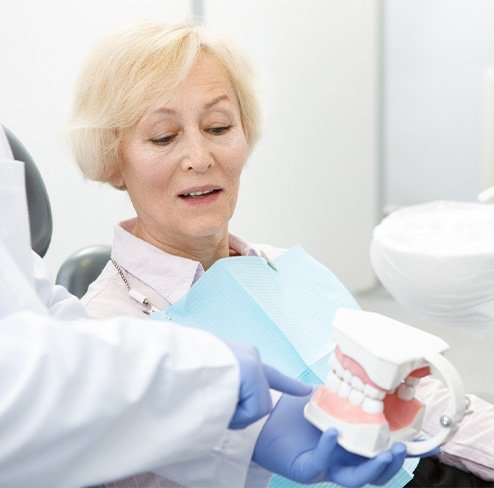 Based on your level of tooth loss, the status of your oral health, and your personal preferences, your dentist in Port Charlotte will recommend the type of denture that best suits you. The three most common types are:
Partial Dentures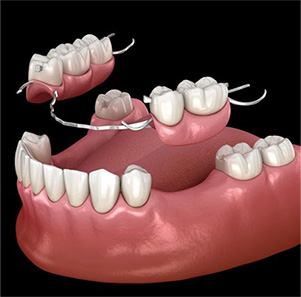 Sometimes called simply "partials," partial dentures contain a metal framework that attaches behind the remaining teeth. This framework supports a number of artificial teeth that fill in the empty spaces at various points along an arch. Since these replacement teeth are carefully designed to resemble your natural ones, no one else should even notice the difference!
Full Dentures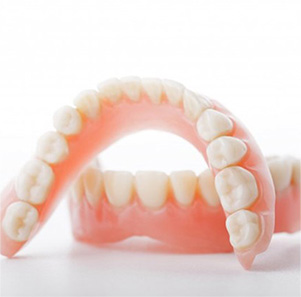 Like the name suggests, full dentures replace an entire row of lost teeth. A full denture consists of a pink acrylic base, which rests directly on the gums, and an arch of prosthetic teeth. It should stay in place with a natural suction force, but a small amount of denture adhesive can stabilize it.
Implant Dentures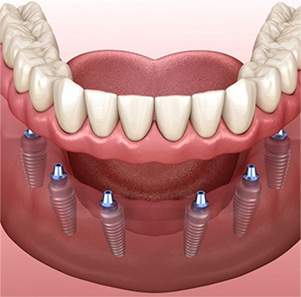 To make a full or partial denture even more reliable and long-lasting, we often recommend securing it onto dental implants, which are essentially artificial tooth roots that are embedded in the jaw. Implant dentures should never slip around, and they restore significantly more biting and chewing power than traditional dentures.
The Benefits of Dentures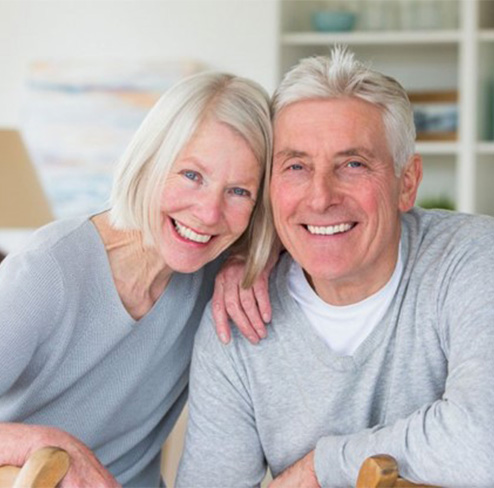 Those who are missing some or all of their pearly whites typically experience a wide variety of complications from not having a full smile. Since dentures are specifically designed to restore a person's bite, they can provide the essential solution for improving a patient's oral health. Furthermore, you'll likely be able to enjoy additional advantages that go beyond your smile, offering a positive impact on your overall well-being! Read on to learn a few of the benefits of dentures.
Psychological Benefits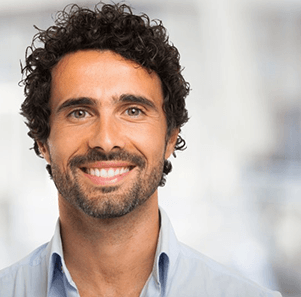 If you've been missing any number of teeth, then you can understand the negative downsides the situation can have on your mental and emotional well-being. Most people feel self-conscious about the way they look or even tend to hide their mouths when talking or laughing, making it difficult for them to engage in social interactions. With dentures, you can feel proud to show off your beautiful smile without worrying much about things like your appearance, speech, chewing ability, and more.
Clearer Enunciation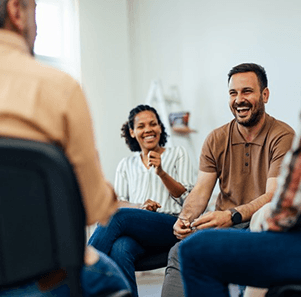 Did you know that pronouncing most words and sounds requires us to properly position our lips and tongue against our teeth? This means that missing some or all of your teeth can make it extremely challenging to speak or converse with others. By renewing your smile with dentures, you can get the necessary support to properly enunciate what you wish to express. Although this can take an adjustment period, constant repetition and practice can help make the process much smoother.
Improves Nutrition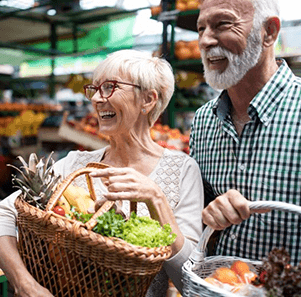 Some of the more nutritious foods out there can often be tough in texture, including veggies, fruits, and lean protein. While it's important to consume the nutrients you need to promote better oral and overall health, it can be difficult to do so if you aren't able to chew your meals effectively. This can lead to complications like indigestion and malnutrition. By getting dentures, you can regain sufficient biting power, which can then expand your diet so that you can enjoy healthier options to strengthen your bones, soft oral tissues, and the rest of your body.
Preserves Oral Health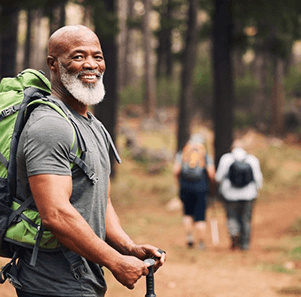 If you still have some of your natural teeth, they may be susceptible to shifting out of place. This is because missing tooth roots can cause the jawbone to deteriorate due to a lack of stimulation in the bone tissue. However, by getting well-fitted dentures, you can help prevent your remaining pearly whites from trying to fill in the gaps. Your prosthetics can even share the pressure of chewing, minimizing the wear and tear on your existing natural teeth.
Expands Opportunities
Whether you're preparing for a job interview, trying to get a promotion, or getting ready for a first date, you'll want to look your best for the occasion. Since your smile is one of the very first things people notice about you, it'll benefit you greatly to be able to show off a beautiful and healthy set of pearly whites. Restoring your smile with dentures will not only renew your bite but can even boost your success in both your professional and social life.
Denture Repair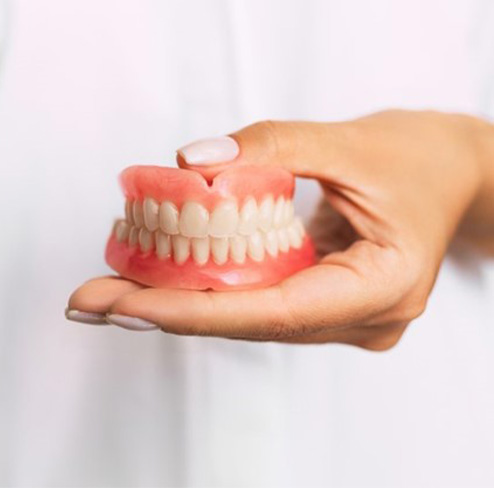 Even the most well-made denture isn't going to remain in flawless condition forever. Natural changes in the jaw over time can cause a denture to feel loose, and years of wear can take its toll on your prosthetic. Maybe your denture has even become broken or otherwise damaged. At Caring Way Dentistry of Port Charlotte, we offer denture repair services designed to get your smile back in excellent shape again.
Learn More About Denture Repair
Understanding the Cost of Dentures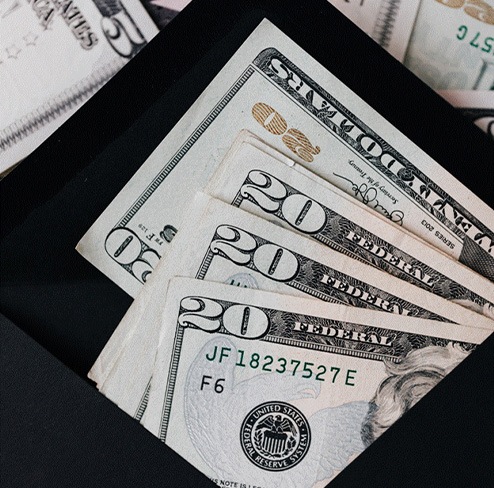 Your financial situation should never stand in the way of replacing your missing teeth. Dentures are a go-to solution for tooth loss because they are effective and affordable. Many things affect the cost of dentures, but Dr. Bryan Villescas strives to keep a beautiful, functional smile within everyone's budget.
Factors That Affect the Cost of Dentures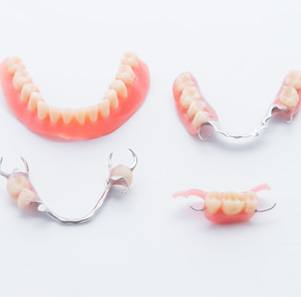 Every mouth is as unique as fingerprints, so a one-size-fits-all denture just won't do. A denture is carefully crafted to fit your mouth like a glove. Every treatment plan differs, but you can expect your estimate to include:
Consultation: Your first step to completing your smile is a consultation. Besides a visual examination, your dentist will review diagnostic images to have a complete picture of your oral health.
Preliminary Procedures: It's not unusual to need a little prep work, like gum disease therapy or tooth extractions.
Type of Denture: You have many types of dentures to choose from, like traditional prosthetics and implant-supported methods.
Materials: It's better to focus on quality instead of price. Discounted materials may not be as durable or authentically pleasing.
Are Implant Dentures More Expensive?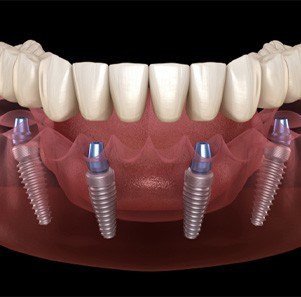 Dental implants cost more upfront than dentures, but they are the most affordable overall. They replicate both the roots and the crowns of teeth, which isn't possible using any other method. As a result, they preserve your jawbone to prevent many common issues caused by missing teeth. You're less likely to need costly procedures later to save money down the road. Not to mention, dental implants can also last for decades with the correct care, so you'll never need to budget for replacements. With the support of your jawbone and over a 95% success rate, you can't put a price on the benefits you'll gain. Dental implants are the next best thing to real teeth.
Does Dental Insurance Cover Dentures?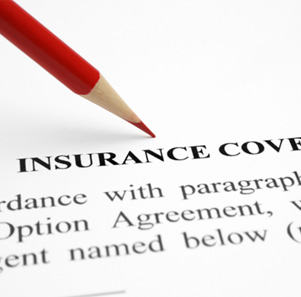 Dental insurance can cover many aspects of your treatment, like your consultation and imaging. Your benefits may pay some of the cost of any preliminary procedures after meeting your annual deductible. Dentures are considered a major service, so they are covered by 50% until reaching your yearly limit. A member of our team will work on your behalf with your dental insurance to maximize any appropriate benefits to lower the amount you will pay out of pocket.
Other Options for Making Dentures Affordable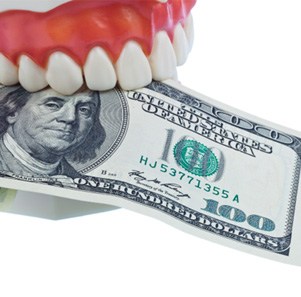 Besides using your dental insurance, we offer many payment options, like:
Traditional Payments: We accept all traditional payment methods, including cash, personal checks, and credit cards.
Financing: Pay any dental expenses using a monthly payment plan through a third-party financing company, like CareCredit. You can benefit from little or no interest in financing based on your credit approval.
We will help you find the solutions you need to replace your missing teeth without it costing you an arm or a leg.
Denture FAQs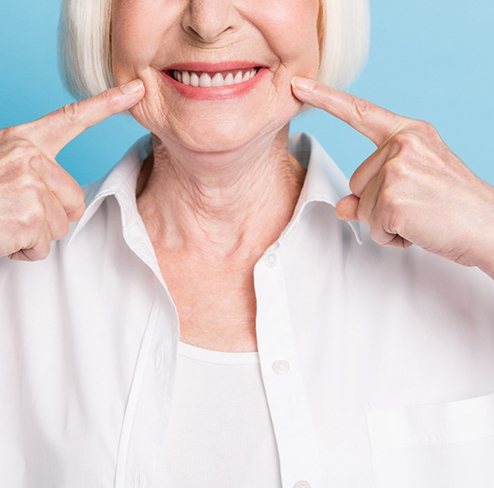 Extensive tooth loss can take a major toll on both your dental and mental health. At Caring Way Dentistry of Port Charlotte, our team wants to provide the best help throughout your process of restoring your smile. For this reason, we have gathered a list of the most frequently asked questions about dentures in Port Charlotte. Read on to learn more about this restoration treatment, or feel free to contact our office if you don't see your specific question!
How Long Does It Take to Get Dentures After Your Teeth Are Pulled?
While the length of time you'll need to wait to get your dentures depends on your situation, most patients require six to eight weeks before receiving their restorations. Your gums will need to recover sufficiently, and the jawbone can change during this period. The healing process is especially important if you're getting implant dentures, as the metal posts will need to fuse with your jaw before your denture dentist in Port Charlotte can attach your new smile.
Will It Hurt to Get Dentures?
You may experience mild discomfort or soreness for some time if you require teeth to be extracted beforehand. This can generally be dealt with by taking your prescribed pain medication as instructed. Once you've recovered and received your dentures, you'll likely go through an adjustment period to get familiar with your new teeth. During this period, it's natural to feel mild irritation in your gums. This should go away over time, but it can take a few months for some patients.
Is It Hard to Talk with Dentures?
Since traditional dentures rely on the suction with your gum line, it can be challenging to speak with them for the first time. You'll have to get used to how they feel and work when moving your mouth. You might even develop a slight lisp or muffle your phrases. However, the more you practice talking and pronouncing words, the better you'll get at conversing clearly. Try reading aloud in private as well as speaking with friends and family to build your confidence in your speech. And if you need additional help, you can always ask us about denture adhesives to help make your process run smoother!
Can I Sleep with My Dentures?
No one wants to be caught without their smile, but you shouldn't sleep with your dentures in. Instead, it's important that you take them out before bed and soak them overnight every day. This serves a few essential functions! Firstly, it's the best way to clean all the tiny spaces in your dentures where plaque and bacteria can hide. Secondly, it relieves pressure from your gums and encourages circulation, keeping your gums healthier and free of sores. Avoid using harsh chemicals or hot water to soak your dentures, as this can damage them!
If you have any other questions about dentures in Port Charlotte, be sure to reach out to our dental team today! We'll be happy to walk you through the treatment process and how to make the most of your new smile.