Dentures – Port Charlotte, FL
Rebuild Your Incomplete Smile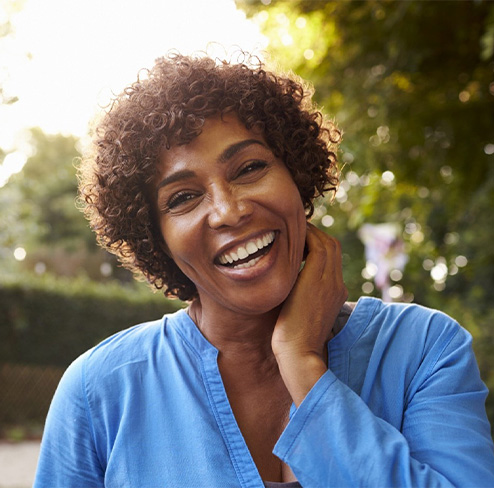 When you're missing several or all of your natural teeth, many of life's little pleasures become impossible to enjoy. Having a nice meal with old friends, for example, may feel extremely embarrassing. At Caring Way Dentistry, we want to rebuild your incomplete smile by fitting you with a custom-made denture. We use only the highest-quality materials, ensuring your prosthetic teeth will look remarkably natural. Contact our practice to learn more about dentures in Port Charlotte, FL!
Why Choose Caring Way Dentistry for Dentures?
Fast, Expert Denture Repair
Implant Dentures Placed In-House
State-of-the-Art Dental Technology
Who Is a Good Candidate for Dentures?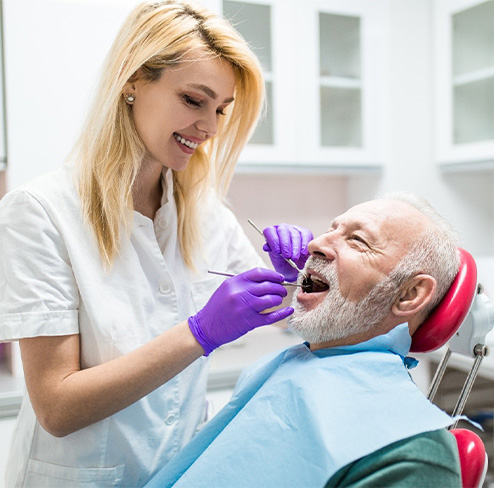 Has moderate or severe tooth loss been negatively impacting your speech, diet, and confidence in your smile? If so, then you're probably a good candidate for dentures. This solution is ideal for patients who are missing anywhere from a few teeth to all of the teeth on one or both arches. Of course, you'll need to schedule a consultation with Dr. Villescas to confirm your eligibility. He'll check for any oral health issues, such as gum disease, that must be treated before you can begin the dentures process.
Types of Dentures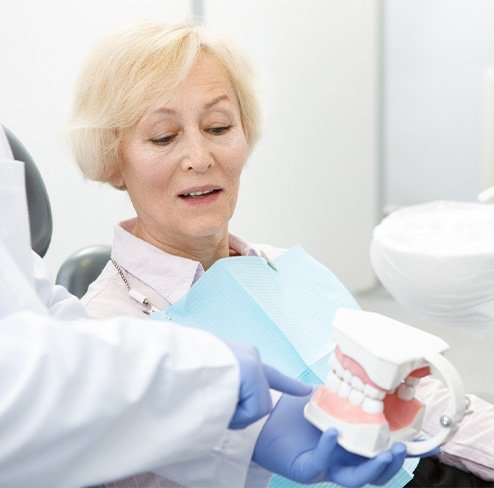 Based on your level of tooth loss, the status of your oral health, and your personal preferences, your dentist in Port Charlotte will recommend the type of denture that best suits you. The three most common types are:
Partial Dentures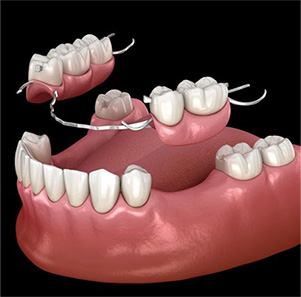 Sometimes called simply "partials," partial dentures contain a metal framework that attaches behind the remaining teeth. This framework supports a number of artificial teeth that fill in the empty spaces at various points along an arch. Since these replacement teeth are carefully designed to resemble your natural ones, no one else should even notice the difference!
Full Dentures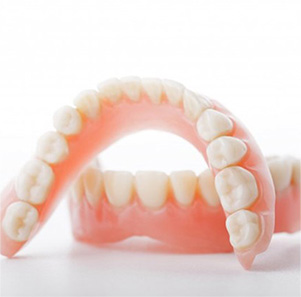 Like the name suggests, full dentures replace an entire row of lost teeth. A full denture consists of a pink acrylic base, which rests directly on the gums, and an arch of prosthetic teeth. It should stay in place with a natural suction force, but a small amount of denture adhesive can stabilize it.
Implant Dentures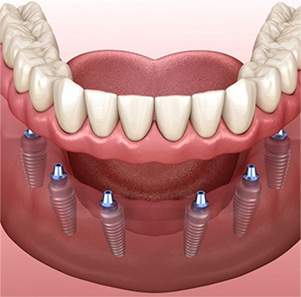 To make a full or partial denture even more reliable and long-lasting, we often recommend securing it onto dental implants, which are essentially artificial tooth roots that are embedded in the jaw. Implant dentures should never slip around, and they restore significantly more biting and chewing power than traditional dentures.
The Benefits of Dentures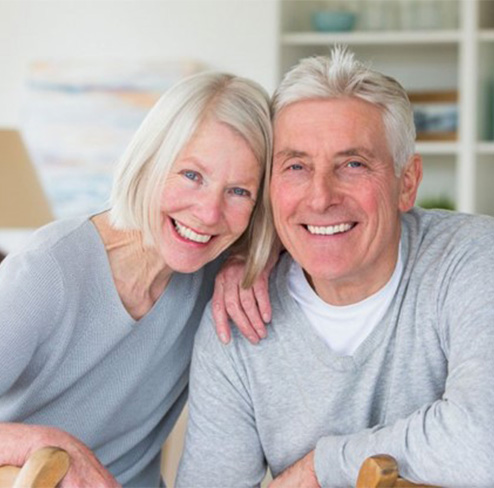 Replacing your missing teeth with dentures comes with a host of benefits, including:
Bringing back all of your teeth with a single treatment.
An enhanced ability to speak and chew food.
Renewed self-confidence.
Relatively short treatment time.
Cost-effective tooth replacement.
Easy maintenance.
Denture Repair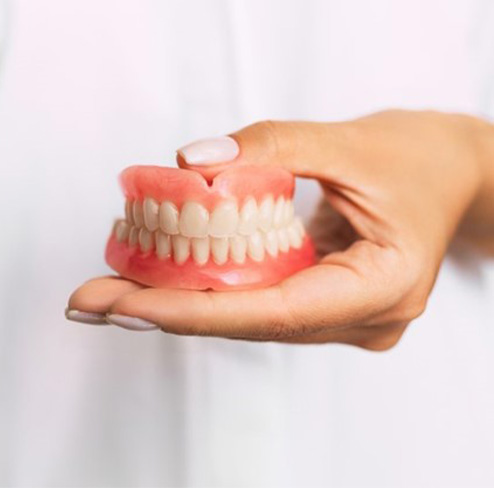 Even the most well-made denture isn't going to remain in flawless condition forever. Natural changes in the jaw over time can cause a denture to feel loose, and years of wear can take its toll on your prosthetic. Maybe your denture has even become broken or otherwise damaged. At Caring Way Dentistry, we offer denture repair services designed to get your smile back in excellent shape again.
Learn More About Denture Repair
Denture FAQs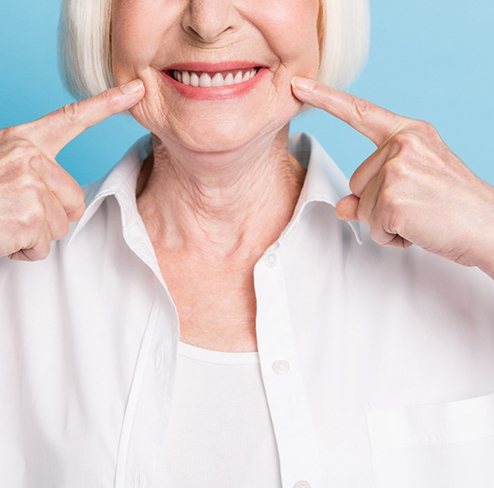 Extensive tooth loss can take a major toll on both your dental and mental health. At Caring Way Dentistry, our team wants to provide the best help throughout your process of restoring your smile. For this reason, we have gathered a list of the most frequently asked questions about dentures in Port Charlotte. Read on to learn more about this restoration treatment, or feel free to contact our office if you don't see your specific question!
How Long Does It Take to Get Dentures After Your Teeth Are Pulled?
While the length of time you'll need to wait to get your dentures depends on your situation, most patients require six to eight weeks before receiving their restorations. Your gums will need to recover sufficiently, and the jawbone can change during this period. The healing process is especially important if you're getting implant dentures, as the metal posts will need to fuse with your jaw before your denture dentist in Port Charlotte can attach your new smile.
Will It Hurt to Get Dentures?
You may experience mild discomfort or soreness for some time if you require teeth to be extracted beforehand. This can generally be dealt with by taking your prescribed pain medication as instructed. Once you've recovered and received your dentures, you'll likely go through an adjustment period to get familiar with your new teeth. During this period, it's natural to feel mild irritation in your gums. This should go away over time, but it can take a few months for some patients.
Is It Hard to Talk with Dentures?
Since traditional dentures rely on the suction with your gum line, it can be challenging to speak with them for the first time. You'll have to get used to how they feel and work when moving your mouth. You might even develop a slight lisp or muffle your phrases. However, the more you practice talking and pronouncing words, the better you'll get at conversing clearly. Try reading aloud in private as well as speaking with friends and family to build your confidence in your speech. And if you need additional help, you can always ask us about denture adhesives to help make your process run smoother!
Can I Sleep with My Dentures?
No one wants to be caught without their smile, but you shouldn't sleep with your dentures in. Instead, it's important that you take them out before bed and soak them overnight every day. This serves a few essential functions! Firstly, it's the best way to clean all the tiny spaces in your dentures where plaque and bacteria can hide. Secondly, it relieves pressure from your gums and encourages circulation, keeping your gums healthier and free of sores. Avoid using harsh chemicals or hot water to soak your dentures, as this can damage them!
If you have any other questions about dentures in Port Charlotte, be sure to reach out to our dental team today! We'll be happy to walk you through the treatment process and how to make the most of your new smile.