Implant Dentures – Port Charlotte, FL
A Better, Sturdier, and Longer-Lasting Tooth Replacement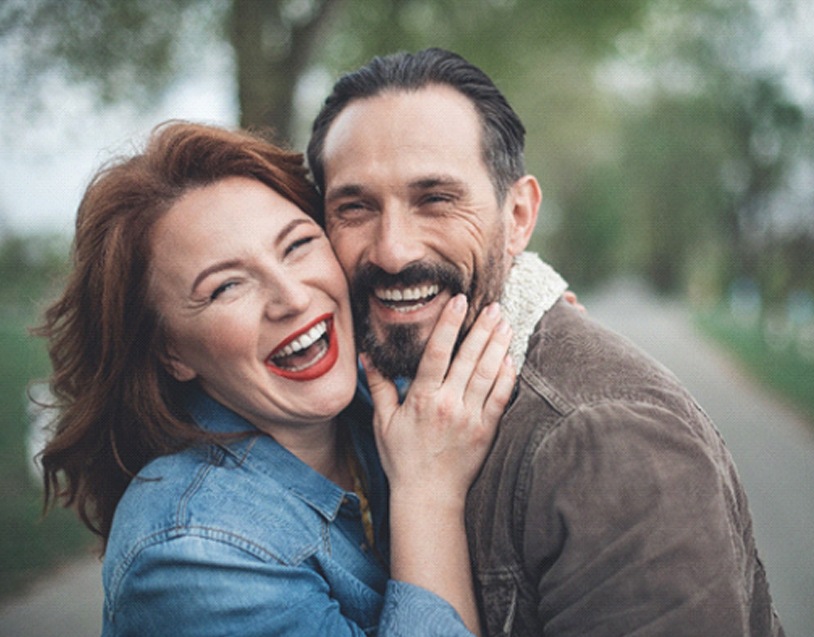 Did you know that close to 180 million Americans are missing at least one tooth? Further, it's estimated that out of those 180 million people, roughly 40 million are missing all of their teeth. If you're part of this group, you already know how difficult even the most basic tasks can be. Even if you have a traditional denture, you may find it difficult to live with day-to-day. To restore your oral health, diet, and confidence in your smile, you may want to consider implant dentures in Port Charlotte. Dr. Bryan Villescas is happy to speak with you one-on-one to determine if dental implants are right for you, so don't wait to give us a call!
What are Implant Dentures?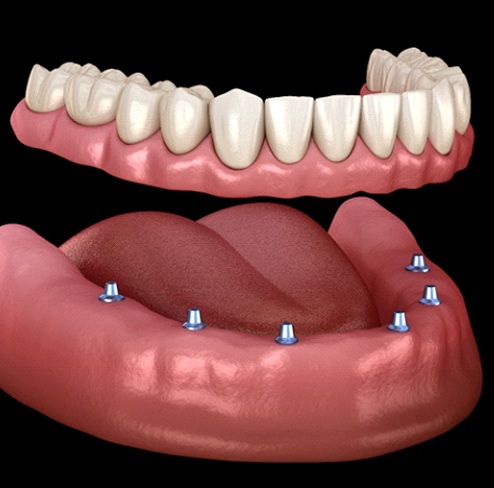 An implant denture is essentially a denture that stays in place through dental implants instead of relying on the natural suction of your gums and shape of your mouth. Dental implants are surgically placed into the mouth prior to receiving your implant denture. These prosthetic roots are made from titanium, not just for their durability but because they can effectively fuse with your jawbone tissue. As a result, your denture feels and looks far more natural as well as lasts substantially longer than a traditional option.
Fixed/Permanent Implant Dentures
Also known as a hybrid prosthesis, fixed implant dentures are designed to stay in place indefinitely. The only time they come out is if a dentist needs to remove them. In most cases, they use four to six dental implants and require a certain amount of bone tissue for them to fuse properly.
Removable Implant Dentures
Often called "snap-on" dentures, removable implant dentures still rely on dental implants for their stability but with one clear difference. They wrap around clips or ball sockets which are attached to the abutments connected to the implant posts. This makes them easily removable for cleaning. They also tend to use fewer dental implants (typically two to five).
The Implant Denture Procedure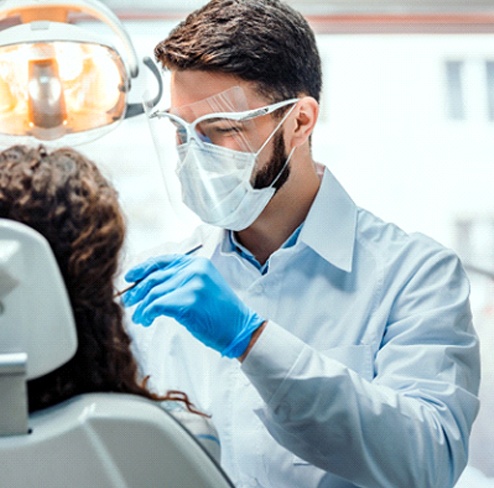 Dr. Villescas holds hundreds of hours in surgical training, which includes the placement of dental implants. This means you can complete your entire dental implant procedure under one roof for added convenience. Following your consultation, he'll schedule you for a separate appointment to have the implants attached. This is done by opening the gum tissue and creating tiny holes so the implants can be placed inside the jaw. After sealing the gum tissue shut with stitches, you'll be given several months to heal, then come back to our office to have your denture affixed to your implants.
Am I a Candidate for Implant Dentures?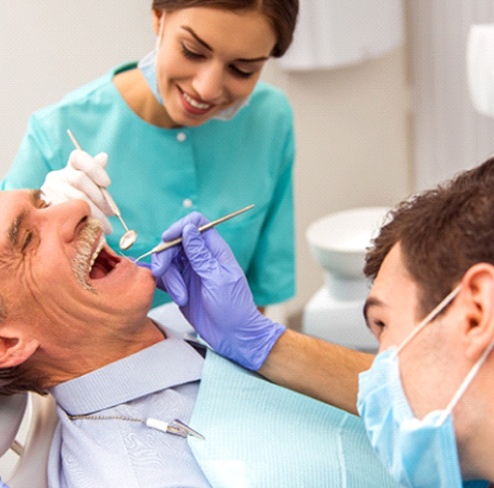 More people are eligible for dental implants than ever, but there are certain requirements you'll need to meet before you can safely receive them. For example, patients should have:
Good oral health and no existing dental disease
Good overall health (certain conditions can affect the body's ability to heal)
Sufficient jawbone tissue for the implants to fuse properly with
During your consultation, we'll be able to determine if you can receive dental implants immediately or if you'll need preparatory treatments first. This could include gum disease therapy, bone grafting, or another service.
Benefits of Combining Dentures & Dental Implants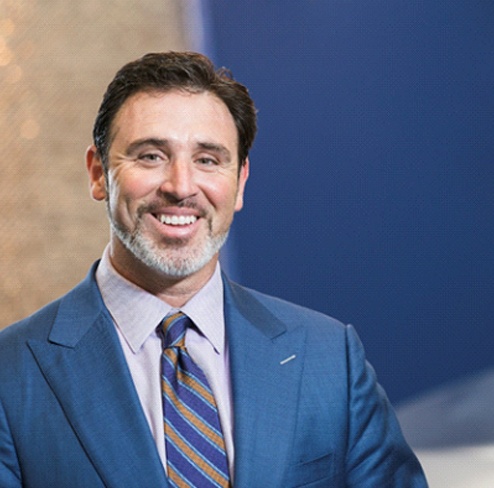 Implant dentures offer benefits that are truly unique, including the following:
Enhanced biting force to eat your favorite and healthy foods
A denture that no longer shifts out of place while speaking or chewing
A long-lasting solution to severe tooth loss (30+ years of reliable use)
Easier at-home oral care
Prevent bone tissue from breaking down and causing changes in your facial appearance
Implant Denture FAQs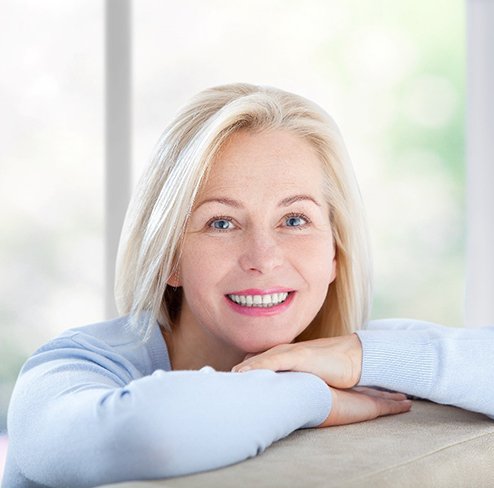 Implant dentures in Port Charlotte are the best way to replace a full arch of lost teeth. However, they represent a big commitment of time and financial resources, so it makes sense that you want to know more about them before you move forward with treatment. Below, you'll find answers to some of the most frequently asked questions about this form of tooth replacement. Give us a call if you would like further explanation on anything you discover here.
How Many Dental Implants Will I Need?
During your consultation, we will be able to let you know how many implants we recommend for your unique case. For patients who have lost some bone density in their jaw and do not want to undergo extensive bone grafting, we try to use as few implants as possible. In some cases, as few as two are necessary to support a denture. However, dentures are stronger and more secure when they have more implants to keep them in place. Some patients receive six or more implants per dental arch.
How Should I Care for My Implant Dentures?
If your implant denture is permanently fixed in place, you can care for it similarly to how you would care for natural teeth. That is to say, you should brush it thoroughly twice a day with a non-abrasive toothpaste and a soft-bristled brush. You may also have to clean beneath your prosthetic. If your denture is removable, you should clean it regularly with a denture-cleaning solution or mild soap. Be sure to handle it carefully; if you drop it on a hard surface, it may incur damage.
How Much Do Implant Dentures Cost?
You can expect to pay thousands of dollars for start to finish implant denture treatment. The exact price depends on how many implants you receive and a number of other factors. Our team can give you a price estimate during your consultation.
Although implant dentures may seem expensive, they are an excellent investment. The many benefits they offer can support your oral health, boost your confidence, and more. They might even save you money in the long run because, unlike regular dentures, they can last much longer than 5 – 7 years.
Do Implant Dentures Look Natural?
Yes, implant dentures are virtually indistinguishable from natural teeth. We design them to fit your unique mouth and facial characteristics. For example, not only do we base our designs on impressions of your mouth, but we also carefully select the color of your artificial teeth so they will be pleasantly white but not to the point of looking artificial. We want our patients to be able to smile with complete confidence!